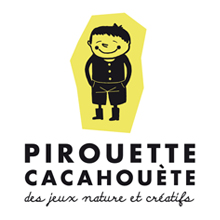  
The cardboard Hut : my Cacabane
Pirouette Cacahouète introduces "my Cacabane" !
A hut full of games and coloring... By creating this intimate and playful space around the potty, "my Cacabane" makes toilet training easier.
Fashionable, educational and full of fun !
The house is made out of cardboard, just like in the French nursery rhyme "Pirouette Cacahouète" !
Carefully illustrated by Marie Paruit, "my Cacabane" is the first product created by Pirouette Cacahouète, a hut made out of cardboard, and made in France.
With the colourful exterior, a letter box in the door, and an inside full of small games and pictures to colour in, this makes it the ideal hut to draw, play, hide and dream... and that's not all !…
This hut is above a teaching aid created to help babies and children overcome potty training.
Children can also customise and create their own little world around their potty to protect their intimacy.
Goodbye nappies, make room for the potty in my Cacabane !
Data sheet
Age

0-5

Materials

Recycled cardboard

Origin

Made in France