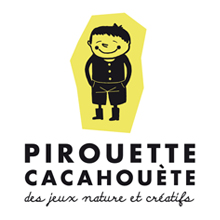  
Family Tree Creative Kit
Pirouette Cacahouète introduces "my Family Tree" !
A learning activity to understand more where to be placed in the family :
1 cardboard tree with members of the family chosen among 50 faces that are to be personalised and coloured in.
Educational and intergenerational !
An educational activity made to understand where we are to be placed in a family (for simple or reconstituted families) and to share a special moment with other generations.
It involves finding, among the 50 paper portraits, those who look the most like members of the family, to colour them in, to bring them alive and to place them in the right branches of the family tree.
Co-created and illustrated by Jérôme Soleil, this creative activity develops coordination, and teaches how to classify and organise.
This hobby is ideal for spending a special moment with parents, grand-parents and for sharing family history with one another.
Data sheet
Age

+4

Materials

Cardboard and Recycled paper

Origin

Made in France