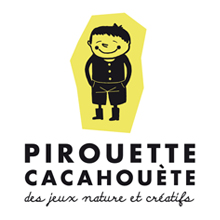  
Cowboy Guns Creative Kit
Pirouette Cacahouète introduces "my Little Guns" !
A creative Wild-West activity :
4 small cardboard guns, designed and colourful, to assemble and customise !
Fun and Western !
Each case includes 2 white and blue guns, as well as 2 white and red guns. The child is free to decorate the guns with paint, stickers, colouring pens...
A fun Western activity which invites children to make their own toy and to invent an imaginary world around their favourite character such as Lucky Luke, Jéronimo, Indiana Jones, Billy the Kid, Jesse James...
Make room for the cowboys, Indians, gangs, lawmen and adventurers !
The perfect accessory for any fancy dress costume : cowboys, Indians, adventurers, sheriffs, lawmen... or an activity to entertain children at a birthday party, or a fancy dress party...
Data sheet
Age

+4

Materials

Recycled cardboard

Origin

Made in France