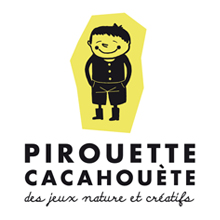  
Hot-Air Balloons Creative Kit
Pirouette Cacahouète introduces "my Hot-Air Balloon" !
Poetic creative activity:
4 hot-air balloon and 4 clouds to be made and to suspend.
Poetic and charming !
An activity, without the need of scissors and glue, that encourages children to travel in their imagination...
The golden thread pulls together the four perforated paper pieces of the ball of the balloon, and the two cardboard pieces for the basket. The balloon then takes shape and can be suspended. Cardboard and paper are also used to form a lovely cloud for hanging.
A poetic workshop where each can make its balloon and its cloud to suspend it then, and maybe create a decorative mobile !
Flying to the land of dreams…!
Ideal for hosting a creative activity at a birthday party or for decorating a wedding.
TUTORIEL ici
Data sheet
Age

+7

Materials

Cardboard and Recycled paper

Origin

Made in France