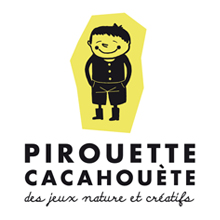  
Bunnies Creative Kit
Pirouette Cacahouète introduces "my pastel Bunnies" !
Hopping creative activity :
6 paper and cardboard bunnies to be assembled and decored with 118 pastel stickers.
Sweet and hopping !
An easy creative leisure to make and which doesn't require either glue or scissors. Putting together paper and cardboard, your child brings to life a colourful bunny for decorating with pastel stickers. Each rabbit will then be mounted or suspended by a lovely golden thread !
A peaceful workshop where each can bring life to a small rabbit to suspend it then, and possibly hang on it in a mobile !
They are too cute !…
Perfect activity to take care a group of children during a party either to complete the decorations of Easter.
Data sheet
Age

+4

Materials

Soie

Origin

Made in France