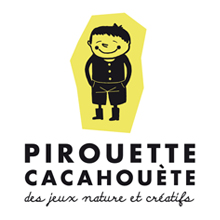  
Creative paper Globe Kit
Pirouette Cacahouète presents "my Globe" !
A creative activity for little curious minds or keen travellers.
1 3D globe to be created and then decorated using 45 included stickers. Straightforward assembly for an impressive result : a planet to be discovered and admired, and how clever to have it in the palms of your hands !
Technical and educational !
A creative activity with no need for glue or scissors. The paper time zones are easily assembled with the use of elastic (innovative Elastiblock® system) to create a 3D globe. All that remains to do is attach the stickers representing the major monuments of the world, trees, pines and palms in the right place on each part of our beautiful blue planet. Getting your bearings is pure child's play !


A fun-filled activity enabling both young and older children alike to faithfully create their own decorative and educational 3D globe. They will discover and correctly place some of the most beautiful monuments scattered throughout our wonderful planet.
Let's go around the world in an ecological way !
The ideal way to decorate a bedroom, a living room, learn through play and dream of beauties of our world !
Game made in France
TUTORIAL HERE
Data sheet
Age

7-99

Materials

Recycled paper

Origin

Made in France

Diameter

27 cm