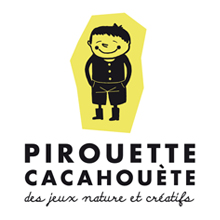  
Arty Owls Creative Kit
Pirouette Cacahouète presents "my arty Owls" !
A really cool, creative activity :
6 card and paper owls to be created and decorated with the help of 228 included stickers. Hanging from a lovely golden thread, they look ready to take flight !
Decorative and fun !
This activity, requiring neither glue or scissors, starts with the simple assembly of paper and card to give life to 6 little, arty owls. Each child can then enjoy personalising their own owl using the stickers for the feathers and the eyes. The most creative could even decorate their owls with the help of paint and felt pens...
A fun-filled activity where anyone can make and customise owls to hang up however they like: eyes wide-open or eyelids half-shut, yellow or green feathers, spotted or striped. Each owl will be truly unique.
Create your very own little "arty owl" family !
Run a fun and creative workshop during a birthday party.
Decorate a child's room.
DIY made in France
Data sheet
Age

+4

Materials

Cardboard and Recycled paper

Origin

Made in France