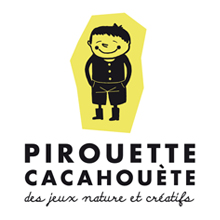  
Dinosaur Memory Game
Pirouette Cacahouète introduces "my funny Memos, the Dinosaur and its Skeleton" !
Just like an palaeontologist, go on a discovery to find the dinosaur and it's skeleton by finding the matching pairs !
Searching for the matching pairs back in the Jurassic period, will develop the memory and observation skills.
40 cards
Fun and scientific !
Firstly, the child will have fun analysing the 40 cards and then match them up with the right pairs, while finding out the names of different dinosaurs !
Once the cards have been shuffled up and turned over, the game can finally begin !
This educational game helps children develop observation skills, as well as discovering different dinosaur names !
... And off we go on an palaeontological adventure !
An original and environmentally friendly idea for a Christmas or Birthday present, where the child can play this game with family and friends.
Data sheet
Age

+4

Materials

certified paper

Box

18,4 x 12,6 x 2,8 cm

Cards

5 x 5 cm

Origin

Made in France