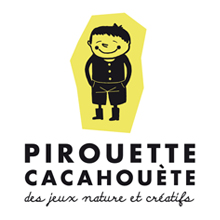  
Trees Memory Game
Pirouette Cacahouète presents "my funny Memos, the Tree and its Leaf" !
A memory game that helps kids to utilise observation skills and develop knowledge about nature.
40 cards + 1 lexicon sheet
Educational and beautiful !
After unpacking the 40 cards in the game, the child can have fun matching the correct pairs and discovering the french names and shapes of different trees and leaves. Oaks, mimosas, fig trees, plane trees … Once the cards have been shuffled and flipped, the memory game can begin !
An educational game that allows kids to cultivate knowledge about nature !
It's a great way to have fun !
A charming and environmental Christmas, birthday or party gift which kids can enjoy with family or friends.
Data sheet
Age

+4

Materials

certified paper

Box

18,4 x 12,6 x 2,8 cm

Cards

5 x 5 cm

Origin

Made in France