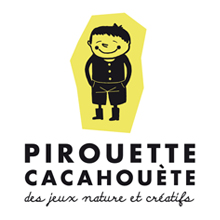  
Mistigri Game
Pirouette Cacahouète introduces its card game "Ocean Mistigri" :
A simple card matching game for learning how to win and lose while having fun !.
49 cards
Colored and fun !
A game on the ocean theme where the Mistigri card is represented by a pile of rubbish surrounded by fish that are not happy at all. Once the cards have been shuffled and dealt, each player will collect the identical pairs and take them out of their deck, the aim of the game is not to end the game with the Mistigri card in hand.
Little extras : 2 cards listing the names of marine animals + 1 drawing to colour.
An educational observation game !
Card game made in France, ideal as a Christmas, birthday or festive gift...
Illustrations : Charlotte Klein
Data sheet
Age

+4

Materials

certified paper

Box

7 x 9,2 x 2,2 cm

Cards

5,5 x 8,4 cm

Origin

Made in France